Generating organic traffic begins with understanding what information your audience is searching for. Once you know what your audience is looking for, you can begin to create great content. But how do you start? The answer is keyword research.
In this article, I'll walk you through a 5 step strategy that will generate a list of thousands of keywords. You will be able to use this list to create a content strategy and start creating content that your audience will love.
Let's get started:
1. Get ahrefs
This strategy is for people who are ready to take their SEO, keyword research, and content creation seriously.
So, you'll need an ahrefs subscription to do this.
They offer a 7-day trial for $7. After that, subscriptions start at $99 per month. If you are new to ahrefs, $7 is well worth a week of experimentation and will allow you to complete this strategy to acquire 1000s of new keywords.
Check out the full list of affiliate marketing tools for more recommendations.
---
2. Brainstorm Keywords
What are all of the keywords you want to rank for?
Some questions to help you brainstorm:
What is your main area of business?
What challenges do you help customers solve?
What are your customers most common questions?
What are the common products and services in your area of business?
If you were new to your business area, what would you want to know?
Collect all of these keywords in a spreadsheet.
For Example:
If I was starting a golf affiliate website, here are some keywords I thought of…
best golf shoes
the best driver for beginners
how to hit out of the sand
how to calculate golf handicap
what does par mean
best golf push carts
electric golf push cart
…
---
3. Find Competitors
Search on the terms you brainstormed.
Add all of the domain names that come up for your terms to another tab in the spreadsheet.
I would recommend getting at least 10 competitors.
Likely the same competitor will keep coming up. That's great. Take a close look at them and see what they are doing right. They are clearly doing some great SEO.
For Example:
If I searched on "how to calculate golf handicap", I get: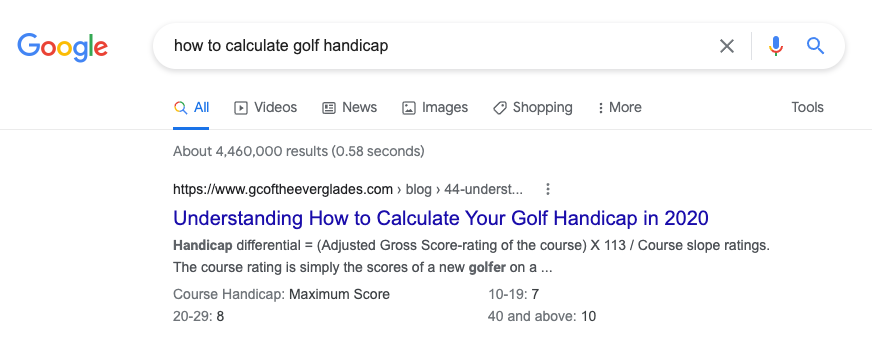 I would add gcoftheeverglades.com to my list of competitors.
---
4. Lookup Competitors in ahrefs
Now that you have your list of 10+ competitors who are ranking for your audience's keywords, it's time to quickly find 1000x more keywords.
Go to Site Explorer in ahrefs.
Enter the competitor's domain name in the Site Exlporer.
Navigate to Organic Keywords
Optional: You can filter here by volume (eliminate low volume), difficulty (remove high difficulty), or branded keywords (if the compeitior is ranking for their brand names)
Export all of the keywords
Repeat steps 1-4 for all of your competitors
For Example:
gcoftheeverglades.com ranks for 5,176 keywords. Export all of them.

---
5. Create Your Awesome SEO Keyword List
Now comes the fun part.
You should have a handful of exported spreadsheets.
Combine them all into one Awesome SEO Keyword List.
You can now identify the low difficulty, high volume keywords by creating a column that compares volume divided by difficulty. I use the formula (JIMSCORE) = VOLUME/((DIFFICULTY+2)*50) and then sort by that column.
Now you have a list of low-difficulty, high-volume keywords that you can start writing content for.
For Example:
Here is an example of the combined list of 1,000s of keywords for a golf niche site.

---
Conclusion
This strategy allows you to quickly accumulate thousands of keywords.
You will need to go through the list and assess which keywords are a fit for your audience and your website.
The major downside is that your competitors are obviously ranking for these keywords, so you will have to outrank them. But by identifying some weaker competitors, you can easily capture search volume. Additionally, by creating great content and building authority in your domain, you can outrank just about anyone.