If you're looking for a way to get a WordPress certification, then look no more. We're going to break down the top five WordPress courses with certificates, and we'll give you a few options for each level—beginner, intermediate, and advanced. This way, whether you're just getting started or want to learn more about WordPress, there's something here that will fit your needs perfectly!
---
WordPress for Beginners – Master WordPress Quickly (Udemy)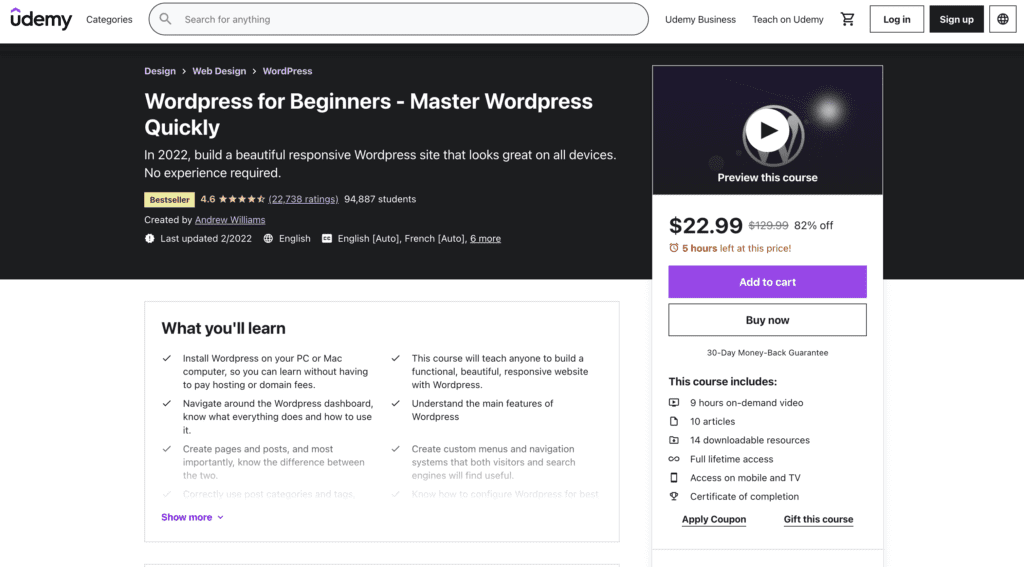 This WordPress certification course is offered by Udemy, an online course provider. This course is for absolute beginners and teaches you how to create a complete website using WordPress. You'll learn how to create pages and posts, add photos, customize your theme, add plugins, and more.
Modules
This WordPress certification course has 20 sections with 107 lectures which are designed for anyone who wants to learn about WordPress or improve their WordPress skills.
Duration
This course is 9 hours long and includes lifetime access to 10 articles and 14 downloadable resources.
Price
It is currently available for $84.99. There's also a 30-day money-back guarantee for each course, so if it doesn't work out for you, there's nothing to lose!
---
WordPress Training Course (Intellipaat)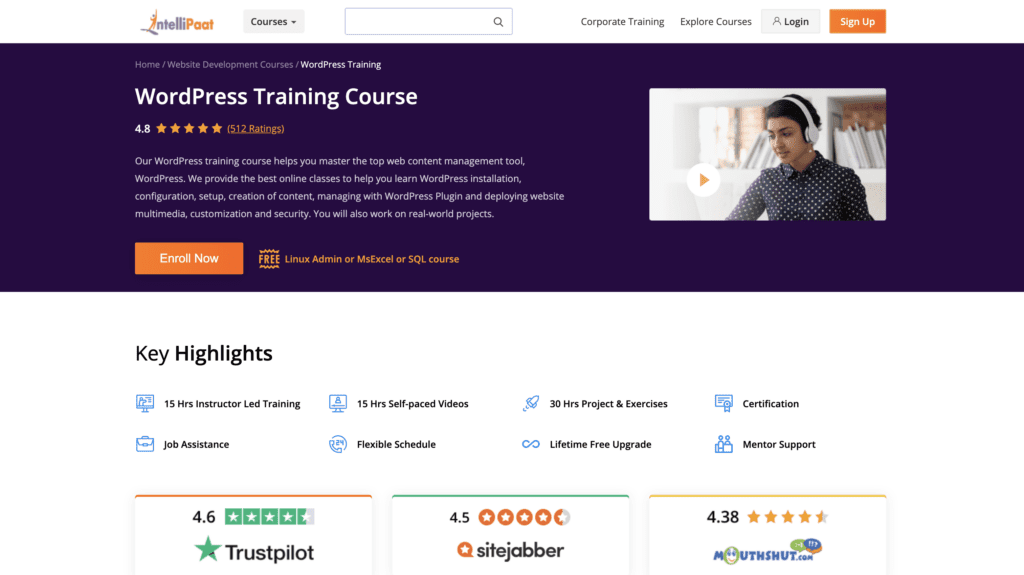 Intellipaat is offering industry-designed WordPress training where you can master WordPress and build robust web applications. This training course is intended for beginners who want to set up a website using WordPress. However, some basic knowledge of HTML and PHP can be helpful.
Modules
This comprehensive course is divided into 8 sections covering various concepts of WordPress. In this course, you will learn how to install and set up a WordPress website. You will also learn how to create pages, blog posts, menu items, users, and plugins in WordPress.
Duration
This WordPress course includes 15 hours of video tutorials and 30 hours of projects & exercises, which will teach you how to create and maintain a WordPress site.
Price
In this WordPress certification course, you can either choose to enroll in self-paced training or instructor-led training. The price for the self-paced training is ₹11,799. If you choose to opt for the instructor-led training, then you have to pay ₹17,100. 
---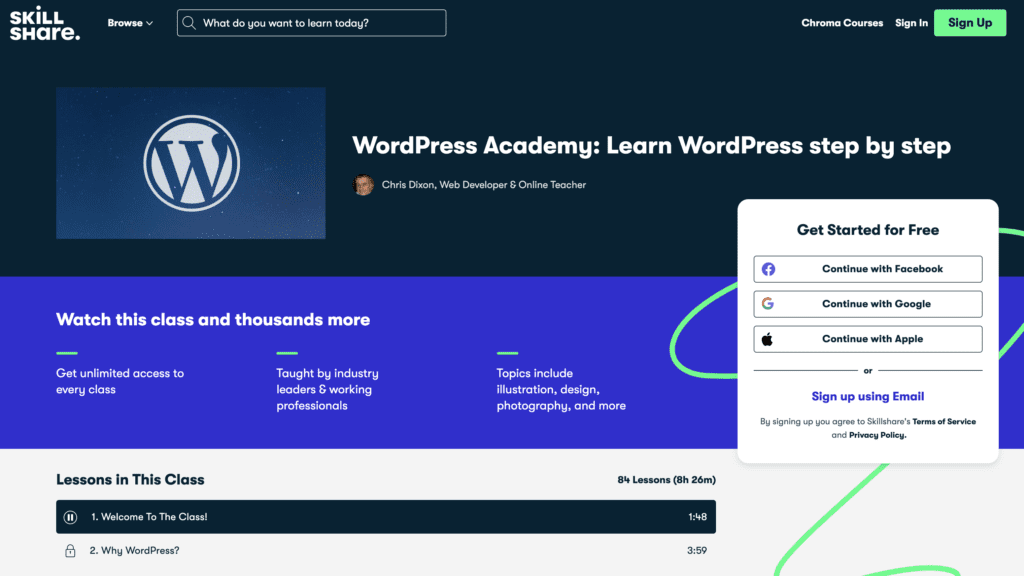 WordPress Academy is a course that was offered by Skillshare, an online learning platform. This is a beginner-to-intermediate course that is taught by expert instructor Chris Dixon, and in it, he'll teach you everything about WordPress using his step-by-step system.
Modules
This course has over 84 lessons which are perfect for beginners and intermediate users who want to take their HTML & CSS skills to the next level with WordPress.
Duration
The course includes over 8 hours 30 minutes of video tutorials that contain all of the information that you need to know about WordPress.
Price
This WordPress certification course is free under Skillshare membership plans. The membership plan starts from $159 USD per user per year. It gives you unlimited access to all classes on Skillshare. There is also a 7-day free trial for new members.
---
WordPress Course Training (EDUCBA)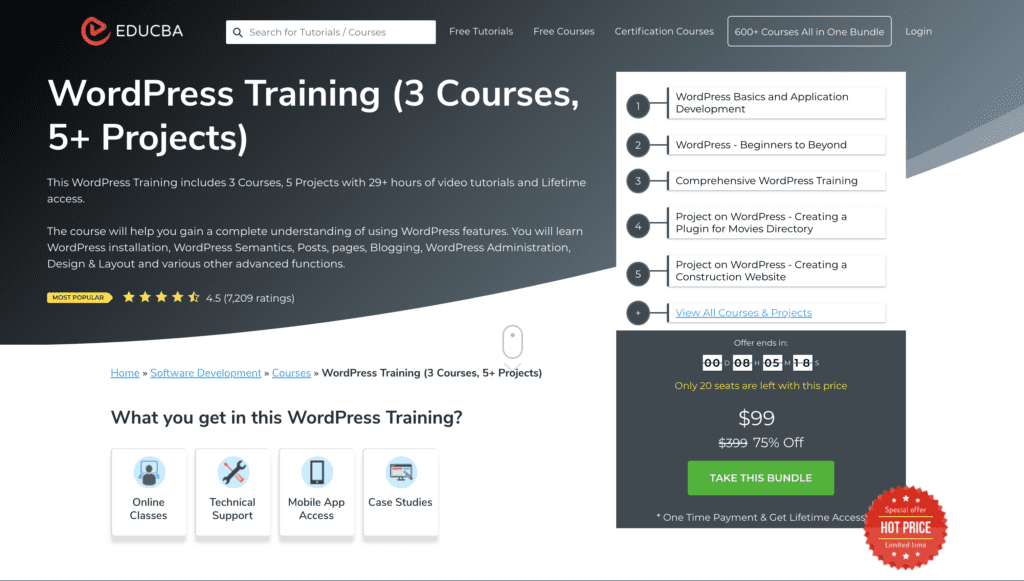 WordPress Course Training course is offered by EDUCBA, a global provider of skill-based education. This course is perfect for beginners looking to get started with WordPress and intermediate users who have been using WordPress but need to brush up on their skills.
Modules
The training includes three WordPress courses and 5 hands-on projects that cover everything you need to start your own website, including pages, posts, WordPress administration, WordPress installation, and more.
Duration
The course is self-paced and has 29+ hours of video content to provide you with the knowledge and skillset required to be a successful WordPress developer.
Price
The price of this WordPress certification course is $99 for lifetime access which is very reasonable as compared to others.
---
WordPress Training Courses and Tutorials (WP Academy)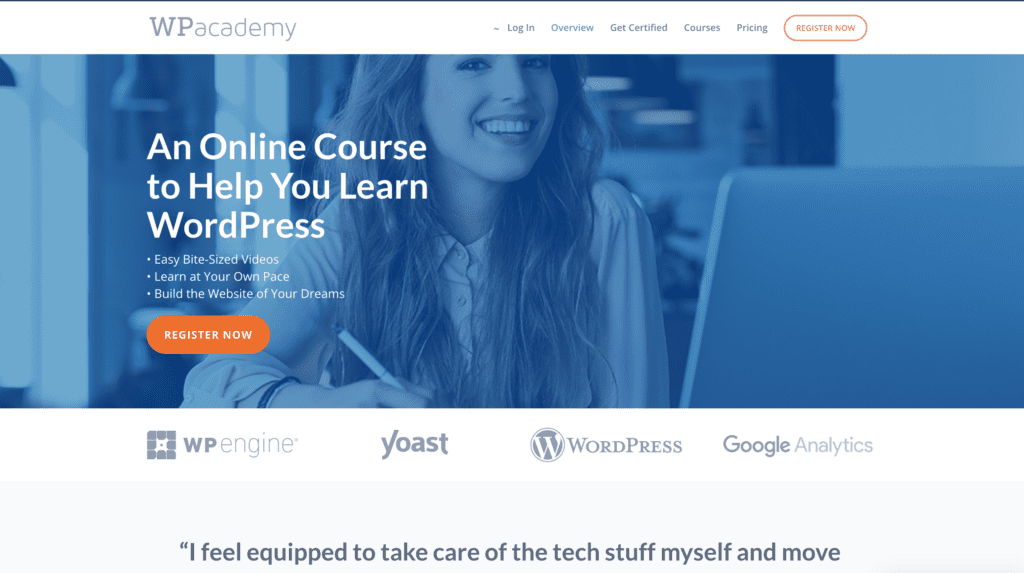 At WP Academy, there's a broad range of WordPress courses for all kinds of learners. Using their courses, you can learn both basic and advanced topics such as how to build a website step by step, improve your SEO techniques, and create a beautiful website using widgets and plugins. You can also learn how to use WooCommerce to grow your e-commerce store.
Modules
WP Academy offers 9 comprehensive WordPress certification courses that will get you to grips with WordPress in no time. These include:
WordPress success course
Make a website in WordPress
Design layouts faster
Build your first online shop
Google Analytics for beginners
Search engine optimization
Authority traffic
Be heard content creation
High converting email writing masterclass
Duration
As you can see, the training covers a wide area, and each course is tailored to meet a specific need. And all of these courses come with their own set of video tutorials and duration (from 3 hours to 4 weeks).
Price
WP Pro membership will cost you $197, which comes with above mention top 6 WP Academy courses. However, to get access to all courses, you need to purchase WP Unlimited membership plan, which costs $967.
---
Conclusion
With so many options, it can be hard to know who offers quality educational material and who doesn't. Fortunately, these five WordPress certification courses are extremely accessible and affordable. Of course, even the best options can't guarantee that you will learn how to become a WordPress expert, but you should be well on your way after finishing any of them.